Visions Auction 2020
Item List - Almost Live
A201
Custom Picnic Table
$1,800
Do you have an empty back yard? The Pacific Northwest has some of the best weather to host outdoor events this summer. Just imagine hosting your closest friends and sharing some great food on this beautiful picnic table. Table features redwood and is made with 4x6 legs and structure. Beautiful custom craftsmanship from JD Pollard Construction. Perfect!
A202
YMCA Summer Day Camp
$185
You know you loved camp when you were a kid. Bid on this FREE week of summer day camp for your child for the summer of 2020. If you win, please make a reservation at the Plum or Briggs Branch YMCA, Space Available Basis. Exp: Dec. 31, 2020
A203
Have Beautiful Skin!
$1,350
TempSure Envi is a new radiofrequency treatment that minimizes fine lines and wrinkles, tightens skin, and improves cellulite. It's safe for all skin types and levels of sun exposure, so it fits perfectly into any beauty maintenance routine, any time of year. No surgery, no needles, and no downtime. So you can immediately get back to what you were doing and look great doing it.
A204
Lenovo 14" Chromebook
$300
The Lenovo Chromebook S330 brings you the best that Chrome OS has to offer —in a sleek, secure laptop in stylish Business Black. Enjoy your favorite multimedia content with crisp visuals on a 14" anti-glare display. At only 3.3 lbs, and with a full keyboard and spacious trackpad, this Chromebook is perfect for day-to-day computing, on or offline. The Lenovo Chromebook S330 also features powerful AC WiFi with Bluetooth 4.1 for connecting up to two Bluetooth devices at the same time, complete with a 720p webcam and two 2W speaker systems for crystal clear video calls. This Chromebook boasts 4GB of memory, a 32 GB hard drive, and Bluetooth. Enjoy fast processing for daily tasks, LPDDR3 memory for effortless multitasking, eMMC storage, quick boot-ups, quick software loading, and more.
A205
VIP Tacoma Rainiers Experience
$215
Here are 5 Summit Club tickets to see the Tacoma Rainiers take on the Vegas Aviators on July 11, 2020 at 7:05pm. Enjoy 2 VIP reserved parking, complimentary ballpark snacks; as well as beer, wine and soda, PLUS exclusive access to the Summit Club!
Stiebrs Farms - Dianna Stiebrs
A206
Ultimate 4th of July Fireworks Package
$1,500
Bomb Shelter Fireworks, a stand behind the Little Creek Casino Resort during the 4th of July selling season, has donated the best of the best in this Container Load package. This package is worth $1500! WOW! PLUS, you will receive 20% off your additional purchases. This item will be available for pick up during the 2019 selling season. Delivery not available.
Pam & Cameron Goodwin, The Bomb Shelter Fireworks
A207
Ultimate Kitchen Package
$500
45 dozen pasture raised organic eggs from our very own Stiebrs Farms.
Bid on this BOSTITCH 6 gallon air compressor kit which includes a 25 foot hose and 17 piece accessory kit. Great for those jobs around the house and garage.
A209
Children's Birthday Party at Discover Aquatics
$300
Bid on this amazing 2-hour pool party birthday package for 15 party guests (with attending adults) which includes:

Exclusive use of entire facility
Assistance from our Celebrations Specialist
1 hour & 15 minute pool rental with lifeguard and games
45 minute private beach themed party room rental
Downloadable invitations with waivers
Tableware, balloons and decor
2 dozen beach-themed cupcakes & candles
Juice drinks for each child
Popcorn in beach buckets
Party setup & clean up
1 Family Swim Pass for birthday child

Party times available Friday-Sunday, call for specific times/dates. Exp. March 2020.
A210
Mom's Morning Off
$75
Sara Stiebrs is graciously opening her home to 40 ladies on Friday, May 29 from 9-11am. Brunch items and fun drinks will be served. Come and share laughs and good times with other moms!
A211
Navy Blue Kate Spade Handbag
$200
Bid on this versatile Kate Spade handbag. The exterior is navy blue suede with side pockets. The handle is small leather straps perfect for one's shoulder and the inside has 3 pocket for organization.
A212
Northwest Railway Museum
$80
Haven't you always wanted to take a scenic train ride in the Pacific Northwest Area? If you haven't yet, this item is for you! Win four passes on the scenic train ride through upper Snoqualmie Falls aboard a vintage train. Not valid on Mother's/Father's Day, Day out with Thomas, Snoqualmie Railroad Days, Halloween Train, Santa Train or any specially priced event. Exp Oct 17, 2020
A213
Indian Summer Golf
$400
Bid to win this amazing golf package! One round of golf at Indian Summer with three of your friends. What a great Father's Day gift idea!
A214
South Sound Magazine
$425
Josh Dunn, owner and publisher of South Sound Magazine and 425 Magazine, is a huge supporter of Christian education. This is a basket with a $125 gift card to Sam's Tavern (many locations around the Seattle area), $150 gift card to Blue Sardinia (Redmond) and an array of magazines.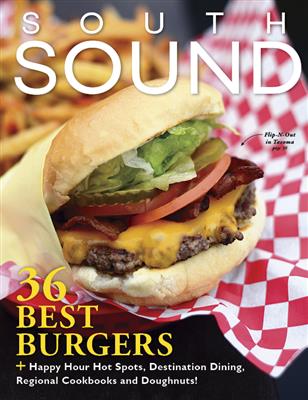 A215
Metal Tree Wall Hanging
$40
Take home this item tonight. Can you picture it in that empty spot on your wall? Maybe in your entryway or at the end of your hallway.
A216
Swan Lake Performed by Studio West Dance Academy
$130
Studio West Dance Academy, our local professional dance studio, offers instruction to all ages. Bid on this item for FOUR tickets to see Studio West students will be performing Swan Lake at The Washington Center for the Performing Arts April 30-May 2, 2020. *Winner to contact Studio West to select tickets
Studio West Dance Academy
A217
One Month Free Gymnastics Tuition
$75
Do you have a student interested in gymnastics? Black Hills Gymnastics is located in Hawks Prairie and has nearly 1000 students and amazing competitive teams. This is due to excellent staff, diversified programs, outstanding curriculum development, investment in facilities & equipment, and most of all, careful attention to the progress of each individual team and recreational program member. Bid on this item today! Your student will not be disappointed.
A218
Spruce up your Garden
$210
This wheelbarrow is filled with all the things you need to spruce up your garden. Garden tools, soil, gloves, women's sun hat, a kneeling pad, garden owl solar light, and a decorative stone.
A219
Evening of Painting and Hors d'oeuvres
$150
Enjoy a fun evening learning to paint! Our very own Andrea Evans will be teaching you how to paint a gorgeous piece for your home or for a gift. Heavy hors d'oeuvres and wine will be served. May 3, from 3:30-7 pm at the office of Lacey Casciato overlooking beautiful Budd Inlet. This event is $150 per person, limited to 12 guests, adults only.
*676 Woodland Square Loop, Suite 122
Kelly Schreiner, Andrea Evans, Lacey Casciato
A220
Handmade Charcuterie Board
$100
Bid on this beautiful, handmade charcuterie board, perfect for any type of party or gathering.
A221
Studio West Dance Academy
$140
Bid on this dance package. It comes with a $75 gift certificate towards Summer dance tuition at Studio West Dance Academy. Choose from ballet, jazz, tap, or hip hop. New or returning students. A $12 registration fee will need to be paid to hold the dancer's spot. Expires August 10, 2020. Winner will also receive a gift certificate good for two (2) tickets to Swan Lake at The Washington Center for the Performing Arts playing April 30-May 2, 2020.
Studio West Dance Academy
A222
Date Night Fashion
$250
Bid on this package to take home a LuLaRoe Amelia dress, a Kendra Scot Elisa Gold White Kyocera Opal necklace and a $100 gift card for Tieks by Gavrieli. Also included is a cute pair of every day gold hoop earrings from Chicos. A whole date night outfit in one package!
LuLaRoe Hollie Hartman, Kendra Scott, Tieks by Gavreili
A223
Tires or Service
$200
Here is $200 toward any tires or service at the West Olympia Les Schwab Tire Center. Everyone needs tires on their vehicle at some point. Bid on this item tonight.
A224
Habit Beauty Bar
$175
The winning bidder of this item will receive a Habit Beauty Bar $100 gift card as well as a professional stylist recommended ion Pro compact hair dryer.
Cheryl Lane, Habit Beauty Bar
A225
Sonicare Basket
$200
Bid on this basket from Dr. Smith which includes a Sonicare Professional power toothbrush as well as two floss cards and an Opalescence tooth whitening kit.
A226
Child Birthday Party from US Martial Arts Center
$150
Take your child and 24 of their friends to the US Martial Arts Center for the best birthday party ever. They will provide 1 1/2 hours of martial arts, games and a cake!

There are 3 locations to choose from.
Is your daughter interested in learning how to wash, condition, dry and style their hair on their own? This item is for them! On Monday, April 27 from 2-4pm, Cheryl will host your girls in her salon and teach them all the things they need to know. 4th grade and up.
A228
Framed Sport Art
$40
Do you have a sports themed room in your home? Maybe it's one of the kids' rooms that is missing just the right art. Bid on these 3, 12x12 framed sports art and take them home tonight.
This item is an introductory flight lesson. For one (1) hour, you will learn the basics of flying. Lesson will take place out of the Olympia airport.
A230
Small Pet Carrier
$40
This is a small, hard-sided pet carrier.
A231
The High Life in Bellevue
$325
This item includes $50 at Seastar Restaurant and Raw Bar, $50 at John Howie Steak, and $25 at Beardslee Public House. You will also receive $200 to spend at the Forum Social House - a massive 2,822,400 square inch venue for you to eat, drink, swing, putt, dance, socialize and have fun! Forum Social House has an eclectic variety of food and beverage offerings and a multitude of activities, ranging from the rapidly growing Topgolf Swing Suite, our own Par 1 – a unique and innovative 18 hole miniature golf course, and introducing Rockwell Sound Lounge bringing an immersive multi-sensory meeting space and vibrant nightlife on the weekends. . Allow yourself to be served by these wonderful restaurants and enjoy a new social venue in Bellevue.
Chef John Howie Restaurants, Friends of ECS
A232
ECS Golf Scramble
$150
Sign up now to reserve your spot at the annual ECS Golf Scramble. The scramble takes place on June 4, 2020 at the Salish Cliffs Golf Course with a shotgun start at 8am.
A233
It's time to Getaway!
$300
Enjoy a night away at the Alderbrook Resort & Spa! This item includes one night in a luxurious courtyard view guestroom.

Gift certificate expires 3/21/21.